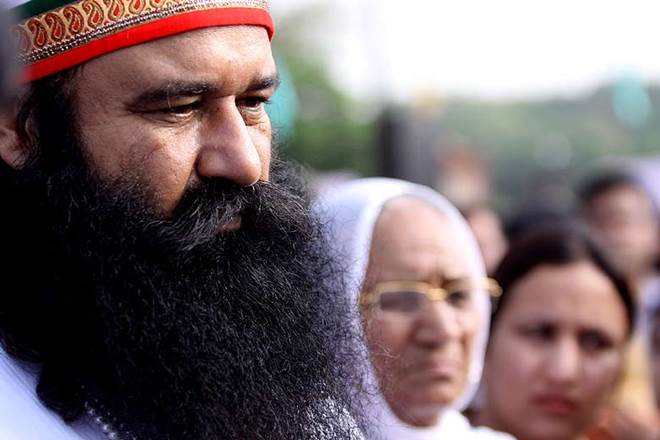 Gurmeet Ram Rahim, chief of Dera Sacha Sauda, has been convicted of sexually exploitationof Sadhvi . After the sentence was pronounced, the court has ordered to send Ram Rahim to jail. The news of the punishment of Ram Rahim has spread the wave of suffering among millions of supporters of Ram Rahim spread all over the country. Especially in Haryana and Punjab, the crowd of supporters have flown the hands of the government.
Ram Rahim will remain in jail till bail gets bail
Ram Rahim has been sentenced to 7 years by the court. According to the rules, if an accused is sentenced to more than five years, then he has to take bail from the upper court. That is, Baba Ram Rahim will now have to take bail from the High Court. Until they get bail, they have to stay in jail.
Complaint was filed 15 years ago
This case came up for discussion against Gurmeet Ram Rahim, chief of Sirsa's Dera Sacha Sauda deal when a Sadhvi wrote a letter in April 2002 sending a complaint of sexual harassment to the Punjab-Haryana High Court and then Prime Minister Atal Bihari Vajpayee . The High Court sent Sirsa sessions judge to investigate the facts of this letter and in December this year, the CBI registered a case under Ram Rahim under section 376, 506 and 509.
It took the investigation agencies four years to find complainant Sadhvi in ​​the investigation agencies itself. After taking Sadhvi's statement, the CBI filed a chargesheet file in Ambala CBI Court in July 2007 against Baba Ram Rahim from where the case was shifted to Panchkula later. 52 cases were presented during the hearing of the case, of which 15 were prosecution and 37 were of defense. In June, the court banned the head of the Dera chief and in July ordered the hearing of this case daily. The effect was that the debate on this matter was completed on August 17 this month and the decision was reserved for August 25. Today the court has heard its verdict.
Ram Rahim came to Panchkula with a convoy of hundreds of trains
Earlier this morning, around 8:30 am Baba Gurmeet Ram Rahim along with a convoy of hundreds of trains came out of his own terrace to Panchkula Court. An unprecedented security arrangement was made to protect his convoy. A convoy was being monitored from a helicopter and a drone camera. Carts with jammers were also going on with the convoy.
Apart from this, massive deployment of Haryana, Punjab Police and Paramilitary forces has also been done. The army also conducted a flag march in order to maintain security and in view of possible violence of supporters of the dera. Internet services have already been discontinued in many districts of Haryana and Punjab. Not only that, more than two dozen trains passing through these two states have also been canceled. The movement of buses is also stalled and curfew has also been imposed in some areas.
( Source – Aaj Tak)
Comments
comments