RBI releases new note of Rs. 500. However, even after the introduction of this new note, 500 rupees notes already in the market will remain valid. Let us tell you that after the ban on behalf of the RBI, new notes of Rs 500 and Rs 2000 were issued.
What will be special in the new note:
According to the information, the new note issued by RBI will include Inset Letter A in the new note. This inset letter A will be on both the numbers panel. Also, there will be the signature of Reserve Bank Governor Urjit Petal. The year of printing on this new note will be 2017. However, the design of this new note will be similar to the note of 500 rupees issued under the Mahatma Gandhi (New) series after the ban on November 8.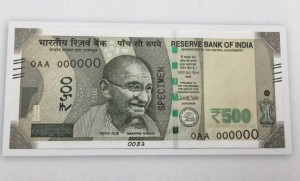 RBI refuses to bring new notes first:
Reserve Bank of India deputy governor NS Vishwanathan had said in March that there is no plan to bring new notes in the central bank market. During that time, Viswanathan had said that the banking system wants to encourage people to cashless transactions.
Earlier, Finance Minister Arjun Ram Meghwal had also said in the Parliament that there is no scheme of Modi government for printing of Rs 5,000 and Rs 10,000 for new notes. It is worth noting that recently a statement by the RBI was issued that it can issue new notes of 10 rupees and 100 rupees soon.
RBI releases new note
Comments
comments