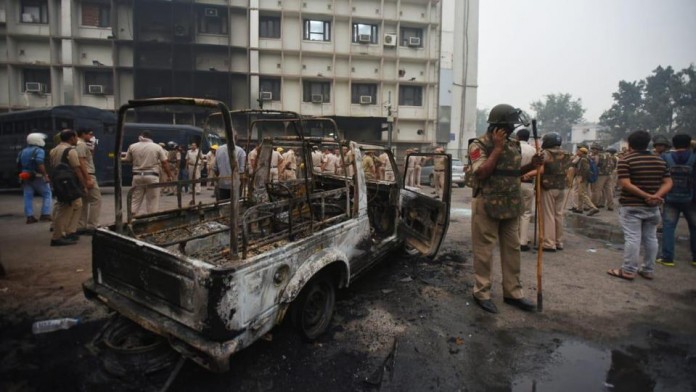 Violent clashes broke out between lawyers and police on Saturday in the capital's Tis Hazari court complex. A lawyer got injured due to shooting. One more lawyer was also injured. He is admitted to the nearest hospital. It is being told that there was a controversy over the collision of a lawyer and police car in the parking area of the court. Angry lawyers set the police car on fire after the firing. 10 fire brigade carts were sent on the spot. A large number of police personnel are deployed in the area.
Bar Association member Jai Biswal told that the police van hit a lawyer's car in the parking area. When he confronted the police, 6 policemen took him inside and beat him. People saw this incident and called the police.
After this, the SHO and local police reached the spot, but they were not allowed to go inside. A team of 6 judges arrived to investigate this matter, but they too were not allowed to go inside. When the judge returned, the policemen fired.
Guilty policeman arrested soon: Bar Council of India
Bar Council of India President Manan Kumar Mishra said on the incident, "This is the most brutal acts of the Delhi Police. Only, the police started firing on innocent lawyers over the parking issue. I demand the high ranking officers of the police and the government to arrest and suspend the guilty policemen."
Wounded lawyer hospitalized, police refuses firing
Tis Hazari Court lawyer Kadam Kharb told that the police are deployed under our protection, but today they fired directly on the lawyers. The injured advocate Vijay Verma has been admitted to St. Stephen's Hospital after being shot. The lawyers are adamant about demanding action against the policemen who shot. However, police say they did not fire during the dispute.
Comments
comments