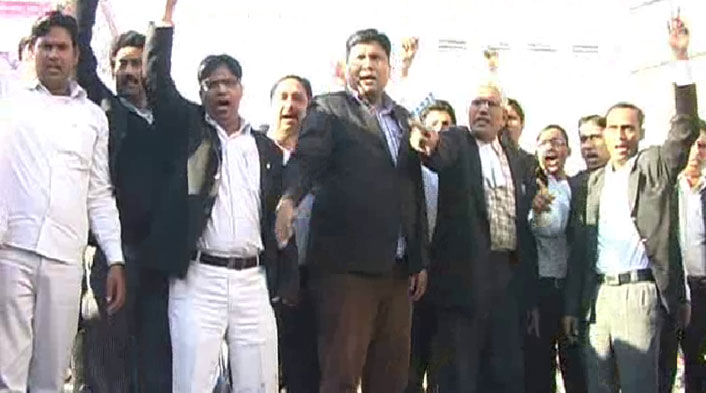 A 50-year-old lawyer was shot dead by unidentified assailants in Pratapgarh's Kotwali police station area on Tuesday. Pratapgarh Lawyer shot dead on way to court
The incident took place when Jawaharlal Mishra was on his way to the district court when he was shot at by motorcycle-borne assailants near Ojha Ka Purwa village. He was rushed to the district hospital where he was declared brought dead.
Kotwali SHO Harpal Singh said the murder is suspected to be a fallout of an ongoing political rivalry between the families of Jawaharlal and Bhole, the husband of the sitting pradhan of Kharagpur village who won in last year's panchayat elections. Bhole was in jail for the murder of Mishra's nephew Arun and attacking his son Sanjay, the then village pradhan, last year.
Last month, Bhole, the main accused in the attack, was granted bail, government counsel Vivek Upadhyay said. He added that Mishra had then opposed the bail arguing that it will lead to an attack on him.
Also See: Defending the doomed: Lawyers who stand up for terror accused, Maoists
Protesting against the murder of Mishra, around 100 lawyers placed the body outside the court of the district judge Vinod Kumar Yadav and staged a gherao from noon. They protested against the granting of bail to Bhole, who was accused by Mishra's family of murdering the lawyer. The lawyers also demanded arrest of the accused and compensation for the victim's family, police said.
District Magistrate Adarsh Singh and other administrative and police officials attempted to calm the lawyers who then demanded that Chief Minister Akhilesh Yadav and Chief Justice of Allahabad High Court D Y Chandrachud come there to talk to them.
Meanwhile, Akhilesh announced a compensation of Rs 20 lakh to the family members of Mishra and directed the officials to arrest those involved in the murder. However, the lawyers did not relent even after this announcement. Later at around 9 pm, Allahabad Range DIG Jitendra Kumar Shahi said the lawyers had decided to end their gherao.
The body has been sent for post-mortem and investigation is on, Singh said, adding that no one has been arrested so far.
Pratapgarh Lawyer
Comments
comments