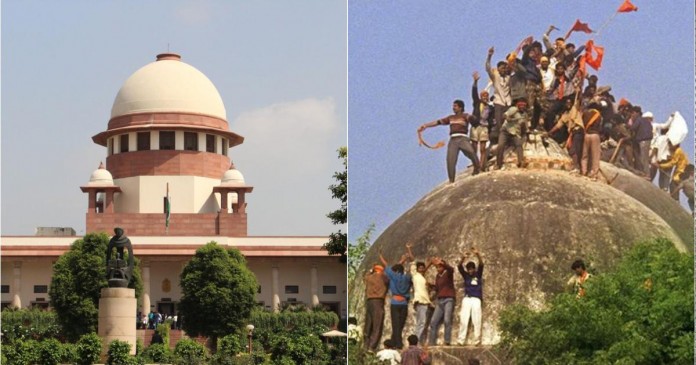 Ayodhya dispute also known as Ram janmabhoomi – babri masjid land dispute. It is a longest running dispute of ayodhya which was filed 134 years ago. Later on, it become a political mobilisation in the form of janambhoomi movement. On 30th November, 1858 FIR had filed by Mohd Salim against the group of Nihang Sikhs who had installed nishan and wrote ram inside the babri mosque. Later on they also hold havan and puja there. In 1885,qq1¹ mahant ragubar das had filed suit in faizabad district court in which he claimed to build a temple at the birthplace of ram in mosque's courtyard but court dismissed the suit. In the riots of 1934 in ayodhya, hindus demolished a portion of structure of disputed site which was rebuilt by Britishers. In 1949, unidentified people had placed Ram's idol inside the mosque from which the dispute had escalated. After this, The authorities seize the structure. In 1986, the DM and SP of faizabad had admitted to reopen the doors for worship that took a turning point in ayodhya dispute. Central took over the 67.7 acres of disputed land in 1993. Later on, in 1994 centre moves and said that the mosque is not an essential place to practice the Islam. As, namaz Can be held anywhere so centre acquired the 2.77 acre of disputed land. The hearing of the dispute of ayodhya had  started in 2002 which ordered that no religious activity to be allowed at the disputed area.
Advocates in Delhi had taken a long journey to resolve the case. In this case, former attorney general and senior advocate K Parasaran and senior advocate C S Vaidyanathan are leading the hindus party whereas senior advocate Rajeev Dhavan is leading the muslim party arguments. A bench of five judges had held to conclude the matter.  Lawyers in Delhi had taken some main arguments that are given following.
From the centuries, devotees of the lord ram believed that the spirit of lord ram has resides in the birthplace of Shri ram. Court had not entered the theological examination of the babri mosque as it had constructed under the historical facts not  theological.
Lawyers in Delhi argue that possession of the birthplace is totally based on the belief, custom and religious practice from the ancient time. Advocates in Delhi of both the parties claimed that Hindus believe in objects to worship like idols, tree, sun and so on. So for the Hindus faith land can be given to the Hindus. But Archaeological Survey of India report stated that the massive construction of mosque had held over the land from 2nd century. They also claimed that the images of animals and humans depicted the islamic  tenets.

Various arguments and claims had been taken by the advocates in Delhi. But now judges concluded the case and give their decision in the last hearing. Decision has taken by the panel of 5 judges jointly and finally came up on a same point.
Comments
comments