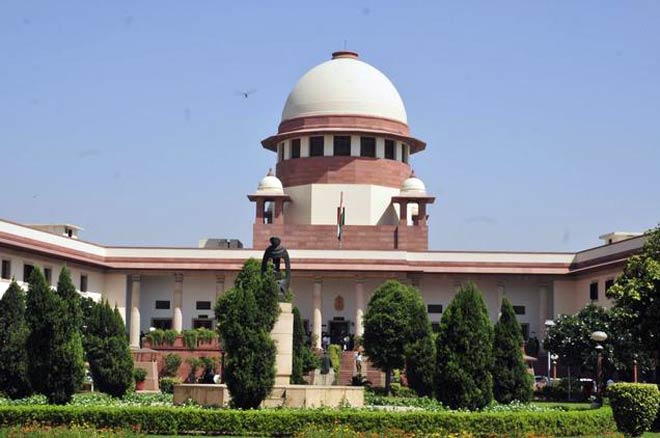 In a setback to the bar, the Supreme Court on Monday said it had put on hold use of its discretionary power to confer the coveted 'senior advocate' designation on lawyers as a recognition of their ability, court craft and legal knowledge.
The SC's April 23, 2015 decision to confer the prized 'senior' tag, which allows lawyers to increase their legal fees handsomely, on five out of 14 applicants invited scathing criticism from India's first woman additional solicitor general Indira Jaising, who filed a petition challenging the procedure for conferring such designations.
When the court issued notices seeking response from the Bar Council of India, the attorney general and the apex court itself, many eminent senior advocates joined Jaising to assist the court in purging the system of anomalies and making the process for 'senior advocate' designation a more transparent affair.
Soon, Shillong HC Bar Association too filed a petition challenging the Meghalaya HC's decision to designate three advocates as 'seniors' despite they having no permanent practice in the state.
On Monday, Jaising requested a bench headed by Chief Justice T S Thakur for expeditious hearing on her petition. The bench said it would hear it in the last week of July. "In the meantime, rest assured nothing will happen. No senior designation will be conferred on any advocate till then," the CJI said.
Also Read: Amitabh Bachchan to Play a Lawyer in Shoojit Sircar's 'Pink'
However, Justice Thakur clarified that the SC's full court would take up applications by retired HC judges, who have returned to practice, for 'senior' designation. This means, no application for 'senior' designation from advocates will be entertained by the apex court on the administrative side till the court scrutinizes the process, which is under challenge.
Shillong Bar Association, through senior advocate Meenakshi Arora, had alleged that there was abuse of the discretionary power vested in the HC chief justice in designating the three lawyers, who never had any substantial practice in Meghalaya HC, Gauhati HC nor did they belong to Meghalaya.
Jaising's petition had sought judicial scrutiny of the SC's method to designate lawyers as 'senior advocates', terming the process "opaque, arbitrary and fraught with nepotism". On July 24 last year, in a rare display of openness, the SC had agreed to examine fairness of its secret administrative procedure to designate 'senior advocates' after many reputed senior lawyers closed ranks with Jaising.
Jaising had said, "Lack of definite criteria and lack of transparency in the designations by the Supreme Court has resulted in arbitrariness, favouritism and nepotism in the designation of senior advocates." She had said such arbitrary designation of 'senior advocates', whose fees are more than three times those of non-designated advocates on an average, had created a "class of undesirable elitism", making legal services unaffordable to litigants.
"An elite handful of senior advocates is seen day in and day out at the bar while others, equally deserving and willing to serve the community, are excluded," she had said.
Senior Advocate
Comments
comments